Dual master's degree student at University of North Carolina Chapel Hill
Education:
Master of Arts in Art History and Master of Science in Library Science, University of North Carolina Chapel Hill, 2023—expected
Classical Studies Post-Baccalaureate Program, University of Pennsylvania, 2020
Bachelor of Arts in Classical Studies and Art History, George Washington University, 2019
As an undergraduate, Eve Svoboda (Classical Studies `20) planned to pursue a double major in classical studies and biology; considering a career in medicine, she felt that Greek and Roman classes would help her understand scientific terminology. Once she began taking classical studies courses, however, she was drawn to the ancient world—as well as the interactive learning environment of small seminar classes. "And then I took a Greek art class, and I just really loved it," she recalls, "so I decided to focus on that for the future." Eve took three years of Greek and a term of intensive Latin study as well as a semester at the Centro in Rome, but felt she needed additional language instruction to pursue an advanced degree in classical art. After conferring with her college advisors, Eve enrolled in Penn's Classical Studies Post-Baccalaureate Program to prepare for her future.
At Penn, Eve studied ancient texts in the small seminar classes she preferred, working together to translate lines of Greek and Latin. "I spent a lot of time on my own, just making sure that I really understood everything, but there were times outside of class when we were able to interact and make sure everyone was on the same page," she recalls. She encourages beginning classical studies students to make the most of all the opportunities there are on campus. "I spent so much time in the Fisher Fine Arts Library, which is a beautiful place to study," she says. "But there's so much more to see, potential job opportunities, and places to go and explore."
Eve focused on language classes during her year in the program, attaining a Certificate in Classical Languages to demonstrate her proficiency both Greek and Latin. However, studying on Penn's campus also gave Eve several opportunities to revisit her interest in art and museum settings. In the summer before her year of post-baccalaureate study, Eve photographed and digitized museum objects as an intern at the University of Pennsylvania Museum of Anthropology and Archaeology. During the academic year, she worked at the Kislak Center for Special Collections, Rare Books, and Manuscripts along with several of her classmates. There, Eve had the opportunity to explore not only texts but objects that were meaningful to her field of study, such as a little bronze stylus that she photographed for the library's blog. "It's a first- or second-century Roman stylus," she explains. "Someone held that two thousand years ago to write something down that we still study today."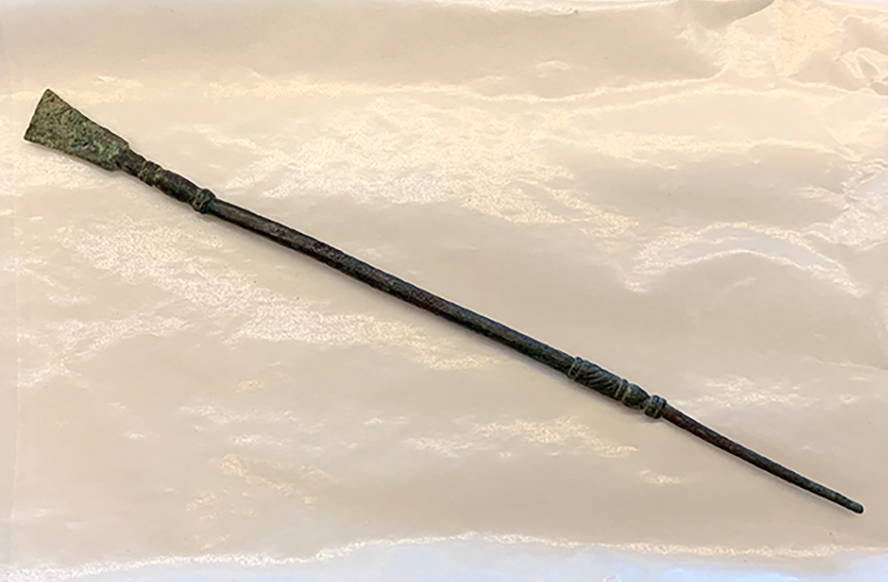 Eve worked with her academic advisor at Penn to narrow down a list of graduate programs in art history where she could pursue her interest in ancient art, and to coordinate recommendations from her language professors as well as faculty at Penn Museum. Her experience in the Kislak Center inspired her to pursue a degree in library science at the same time. Now a dual degree student at the University of North Carolina Chapel Hill, Eve is working toward a Master of Arts in Art History and Master of Science in Library Science. As an art history student, Eve's classical studies background informs her approach to less ancient artworks; for example, when her peers present research on medieval and Renaissance art, Eve can link those materials to artworks or texts that predate them by hundreds or thousands of years. "It's always really interesting to be able to provide an older connection to recent artworks," she reflects. "So much art is based on classical artwork and motifs, and I personally enjoy drawing attention to details that people might not consider if they don't have a background in classical art." As a library student, she draws on her hands-on library and museum experiences for projects such as digitizing photographs for the North Carolina state archives and medieval manuscripts for a UNC literature professor. "For that, it'll definitely be really helpful to have the extra experience in Latin," she says of the manuscript project.
Pursuing both degrees gives Eve some options when she graduates. Although the idea of PhD studies in classical art still appeals to her, she plans to first get more work experience under her belt—perhaps in special collections or a museum library. "I'm sure I could eventually move into work that combines my art and classical background," she says. "I think I forged myself a good path forward."