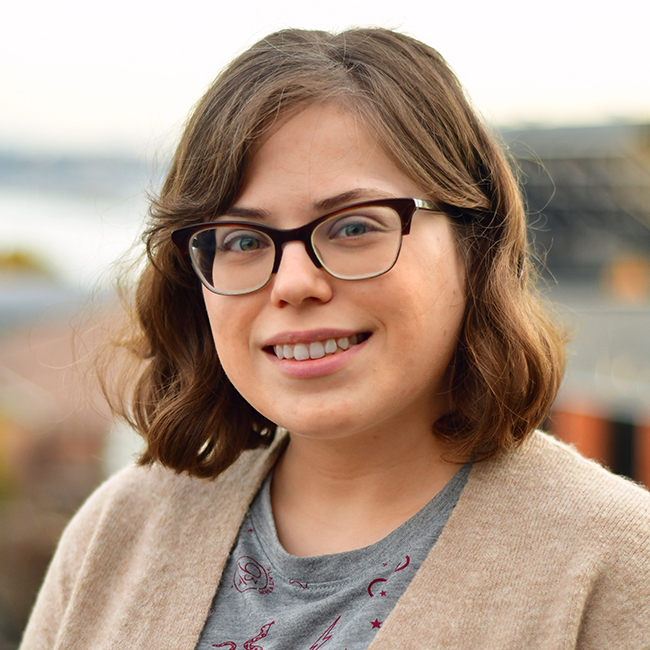 Graduate teaching assistant
Education:
PhD in Classics and Classical Languages, University of Washington, 2025—expected
Classical Studies Post-Baccalaureate Program, University of Pennsylvania, 2019
Bachelor of Arts in Classics, Wesleyan University, 2015
"I fell into Latin," laughs Catherine Chase (Classical Studies `19), who took their first Latin class in high school only because French class wasn't available. "And I fell in love with it right away. It felt a lot like a puzzle, or like solving for X." Along with the work of learning and translating the classical language, Catherine also became fascinated by Roman history and culture. "Once you start learning classical studies, you see it everywhere," they reflect. "All this influence that's been drawn into art and architecture and ideas—some of it good, some of it not great at all—and I think it's important to understand where the ideas and influence come from."
After graduating from college with a degree in classical studies, Catherine spent a few years working at the San Antonio Museum of Art, which has the largest collection of Greek and Roman antiquities in the Southwest; "I got to dip my toes in a lot of different aspects of the museum world," they recall. Catherine felt drawn to material culture and a museum career as well as to further study in classical languages and culture. They applied to Penn's Classical Studies Post-Baccalaureate Program to brush up on languages before pursuing either direction. "It had been some time since I read Greek, and I felt I couldn't apply to a graduate program if I had been away from these languages so long," they reason.
At Penn, Catherine took one Latin class and one Greek class each term, ultimately completing a certificate in each. "It definitely felt intense for the first few weeks, but I enjoyed it," says Catherine, who recalls translating 150 lines of Greek poetry per week at the start of term and then working up to twice as many. "Since I didn't have as much Greek when I left my undergraduate career, I spent a lot of late nights looking through the dictionary and breaking the spine on my grammar book," they laugh. In addition to reading and translation assignments, Catherine's cohort had a weekly exercise called a "tough nut," which featured a challenging excerpt of a text. Cracking the tough nut was an interactive exercise, with students offering corrections or alternate interpretations, citing different sources and commentaries. It made the interpretation of the text engaging and collaborative. "Form a study group," they suggest: studying with peers helped give Catherine a sense of community in and outside of the classroom. "We're still friends," they say of their study group peers. "We have a group chat to talk about our experiences and where we're going."
Catherine also valued opportunities to meet and learn from the larger classical studies scholarly community. "Try to engage as much as possible and use all the resources you have at Penn. Talk to grad students, go to the Colloquium," they advise. The weekly Penn Classical Studies Colloquium features Penn faculty and visiting speakers from other institutions who can talk about different scholarly niches and professional trajectories within the field. "Going to the colloquia really helped me learn about all the different directions you can go," Catherine adds. Catherine also worked in the Kislak Center for Special Collections, Rare Books and Manuscripts at Penn Libraries—an ideal position for a classical studies student, as some familiarity with Greek and Latin manuscripts was a helpful asset. "It's a treasure trove," says Catherine of the Kislak Center. "I loved working with the curators and helping set up for exhibitions. I got to meet different scholars who come from around the world because of Penn's collection, and some of them were so generous with their time and advice. It was a really great place to be."
Their cohort also had a weekly proseminar in which faculty talked to students about the process of applying to graduate schools, how to write application essays and statements of purpose, how to prepare for school visits and interviews, and which schools might be best suited to their scholarly interests. "All of that guidance was really helpful, especially since I had been out of school for a few years," says Catherine.
Now at University of Washington in Seattle, Catherine has completed their Italian and Latin exams and is preparing for German and Greek, as well as exams on special topics such as the Roman historian Livy. Although the pandemic delayed some milestones and made for an unusual first two years of graduate school, Catherine feels engaged and at home in their doctoral studies. "I feel really fortunate," they say. "I love being here and I'm pleased with how things have gone." They teach introductory courses such as Latin And Greek In Current Use and Bioscientific Vocabulary Building From Latin And Greek—designed to support STEM students who can apply Greek and Latin vocabulary in fields such as medicine and biology. Catherine enjoys teaching and can see a future as a professor of Latin—but thanks to their previous experiences in museums and libraries, there are other options. "Museums and libraries can be accessible to anybody, whereas college isn't always," they reflect. "I have to be realistic about what's available, but I also really like the idea of doing something more public-facing."