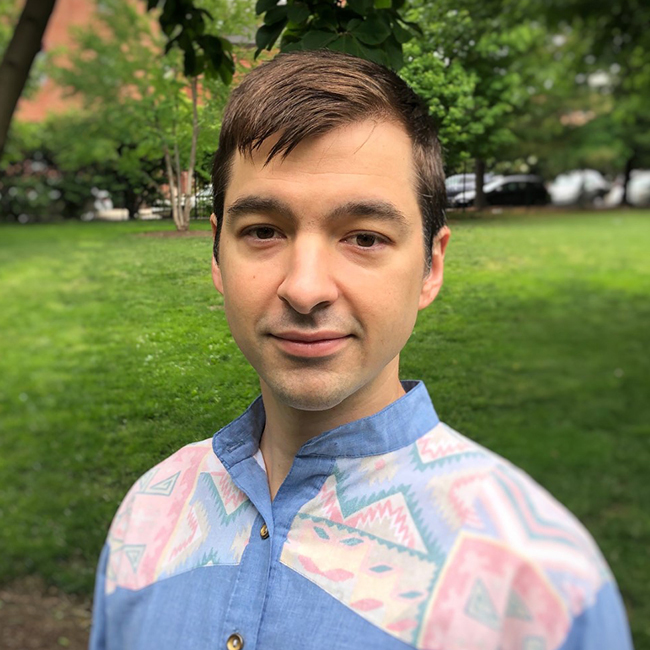 Education:
University of Pennsylvania, Master of Liberal Arts, Urban Studies, 2020
Butler University, Bachelor of Science in Economics, 2015
"I'm a lifelong learner," says Nathaniel Borek (Master of Liberal Arts '20). "I just enjoy having readings to dig into and people to discuss it with, even if that's not in a formal classroom environment." After graduating college with a focus in philosophy and economics and establishing a career in community development, Nathaniel felt ready for an educational opportunity that would allow him to pursue his personal, professional, and academic interests at the same time. "I knew that I wanted to go to grad school, but I wasn't sure what program I wanted to attend—given that I had an interdisciplinary background and I wanted to be a part-time student," Nathaniel recalls. "Penn's Master of Liberal Arts is structured in such a way that it works well for people who work full time and who are interested in pursuing a little bit more of an intellectual master's program."
In the Master of Liberal Arts (MLA) program, Nathaniel continued working full time while immersing himself in opportunities to learn and connect on campus. "I just really appreciated how flexible the program was in terms of timing, but also in terms of just the number and variety of courses that I could take along the way," he says. "If anything, it was a little bit of a problem to sort through the full catalog and find just one or two courses, because there's so much at Penn right at your fingertips." Nathaniel conferred with his supervisor at work as well as his academic advisor to select courses that would meet his academic and professional goals. He also found it beneficial to target his courses to a particular interdisciplinary area.
"I wanted my time in this liberal arts program to have a coherent thread," says Nathaniel, who took courses that were cross-listed in urban studies as well as history, sociology, and economic development. By his final semester, he found that the curriculum he had created met the requirements of the Certificate in Urban Studies upon graduation. "The Certificate in Urban Studies puts me in a good position to stay on my career track," he says, adding that the defined area of study helps to convey his expertise to employers and others. "Almost any time someone asks me about my master's program and I say that I'm earning a Master in Liberal Arts, people kind of scratch their heads," he laughs.
For his capstone research project, Nathaniel explored how community engagement can play a role in helping communities overcome traumatic experiences, and how organizations that serve different neighborhood needs—such as behavioral health and affordable housing—can partner to best serve their communities. "Trauma is an incredibly common human experience, but it's not very well understood," he says. "People understand that things like surviving through a pandemic or recovering from substance use are deeply challenging, meaningfully life-changing experiences. But I think that not all people understand the role that life-threatening experiences can play in shaping your behaviors or the way that you identify yourself, vis-a-vis your family and loved ones and peers."
"I can hardly think of another program where I would have been able to do my capstone, and I'm really glad I could pursue it," Nathaniel adds. "The path that I wound up carving really worked well for me, and it was a great learning experience."