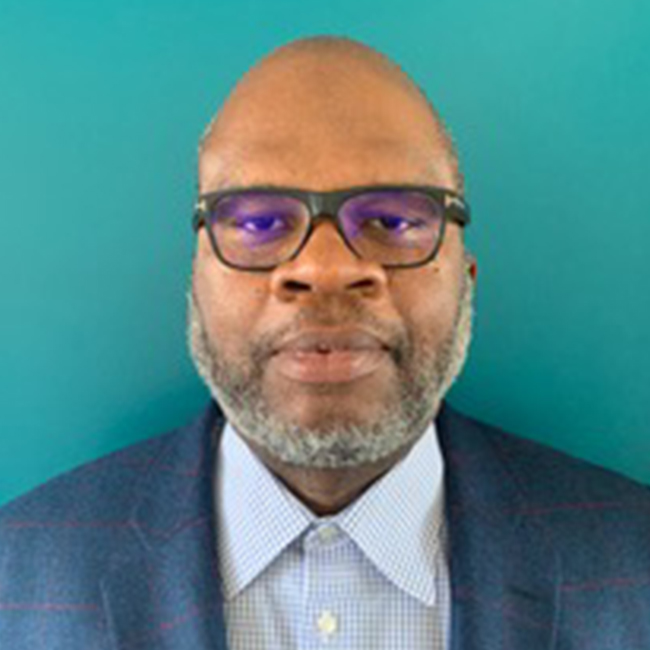 Senior Vice President, People & Culture, International Rescue Committee
Education:
Master of Philosophy in Organizational Dynamics, University of Pennsylvania '22
Master of Science in Management, Georgia Institute of Technology '98
Bachelor of Arts in Architecture, University of Nigeria, Nsukka '88
By 2020, Ebighe Emafo (Master of Philosophy in Organizational Dynamics `22) had a portfolio of human resources initiatives that he was proud of. "Throughout my career, I always focused on trying to understand what the employee's expectations were, how we as an organization or team were meeting up with those expectations, and what we needed to do to close the gap between expectations and actual experience," he says. "You can have the best strategy, the best technology, the best tools and resources, and every other organization can copy or improve upon that. Your true differentiator is your people." During the pandemic, however, Ebighe took time to reflect on what would come next in his career. "It was a critical time," he recalls. "I realized I had done a lot of change and culture transformation projects at all the organizations and industries I'd worked in. As that was a big focus area for me, I needed to get the academic underpinnings, and the theories and methodologies that were evidence-based and sustainable, so that I could apply them for the balance of my career."
The Master of Science in Organizational Dynamics (MSOD) offered an opportunity to study change and transformation at a top-tier university—and when Ebighe realized that he qualified for the advanced Master of Philosophy in Organizational Dynamics (MPhil) degree, he transferred into that program. "The MPhil gave me more flexibility in terms of the courses I wanted to focus on," he explains. Because Ebighe began his coursework during the pandemic, his time in the program was entirely remote—a benefit, he says, because he did not need to commute from Virginia to campus. Despite the distance, Ebighe made the most of University resources: for example, he borrowed books online from Penn Libraries which could be mailed to his home, and worked remotely with a library specialist to help identify publications and resources to help with his research. He also found virtual coursework engaging. "I truly enjoyed all my classes: the collaboration, the project work, the openness in class where you learn from each other's perspectives," says Ebighe. "The professors were really generous with their time. I could reach out to them on any subject, whether it was advice on the class they were teaching, or advice on what other classes to take, or what are the things I should think about to really enhance my experience in the program."
At Penn, Ebighe took courses on topics such as culture change and diversity and inclusion. An elective on corporate sustainability helped him articulate his interest in stakeholder capitalism, which he describes as balancing the needs of all the stakeholders for an organization, not just investors and shareholders but employees, suppliers, the media, and broader communities. Ebighe also appreciated opportunities to put his knowledge to work—for example, in a course about design thinking, he worked with a team of classmates to design a solution that he could apply in the workplace.
Ebighe's organizational interests included projects that could be scaled up, such as leading the design of a functional initiative that was then deployed globally across the enterprise. He was also interested in projects that served community needs, not just those of an organization; he had previously created a digital platform to raise social consciousness and motivate citizens and expatriates of Nigeria to make a positive impact on their home country.  Ebighe built on this mission as part of his capstone study: "To scale this up and make it sustainable, I looked at institutions that could help drive positive social change," he says. In his research, he discovered a global study called the Edelman Trust Barometer; in Nigeria, he found, corporations are among the most trusted institutions in the country. "That was the genesis of my capstone project," he explains. "If corporations are trusted, how can we leverage corporations to drive the change that is needed?" The result is what he calls a playbook, or a model that corporations in Nigeria—or organizations anywhere in the world—could use as a guide to shift their corporate purpose toward becoming a catalyst for positive social change that benefits all stakeholders.
By marrying his interests in community aid and stakeholder capitalism, Ebighe ultimately answered his original question—and pivoted to a career opportunity in an international non-governmental organization, or INGO, that provides services to vulnerable populations. As Senior Vice President, People & Culture, he is responsible for developing and executing the organization's strategic plan to further create a best-in-class People & Culture unit aligned with IRC's vision, mission, and goals. "It goes back to my upbringing. My parents made us really think about taking action to help those in the communities in which we live," Ebighe reflects. "I've been passionate about improving the employee experience and potential of top talent in organizations. The MPhil let me leverage that to really do something where I'm truly impacting the lives and livelihood of multiple people who desperately need help."