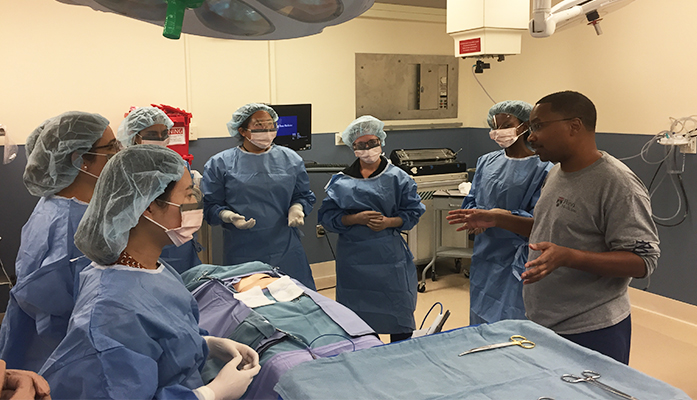 On Monday, September 24, 12 students in Penn's Pre-Health Post-Baccalaureate Programs joined students from Penn Medicine for the Department of Surgery's Operating Room Gowning and Scrubbing Orientation. This session, which was taught by perioperative staff members Maureen McCauley and Malcolm Waddell, is designed to prepare medical students to get clinical exposure by shadowing established surgeons on their rotations. The orientation included information about what to expect in the operating room as well as hands-on practice scrubbing, gowning and gloving for surgical hygiene.
While this orientation is standard practice for medical students, Pre-Health students were invited to join for the first time this year as the program leaders collaborate to facilitate a shadowing program for Pre-Health students. "This is something I've wanted to do since I came to the Pre-Health Programs," explains program director Jackie McLaughlin. In the past, a few Pre-Health students have contacted individual doctors for such learning opportunities, but shadowing a clinical rotation requires scrupulous documentation of the students' HIPAA training and immunization records. A formalized shadowing program would need to coordinate this paperwork and standardize expectations for both the students and doctors, and the opportunity would be a great advantage for the program. "We're making progress," says McLaughlin. "Now there's a contract to outline student and doctor responsibilities, and there will be an evaluation to document how the arrangement went." She emphasizes that this development is driven in part by Pre-Health students such as Anna Sung (Specialized Studies '19) and Alex Pickett (Specialized Studies '19), who helped set the wheels of this Penn partnership in motion.
In the meantime, these 12 future health professionals are OR-ready—and under the auspices of the Department of Surgery, several of the Pre-Health students have arranged to shadow surgeons this fall.