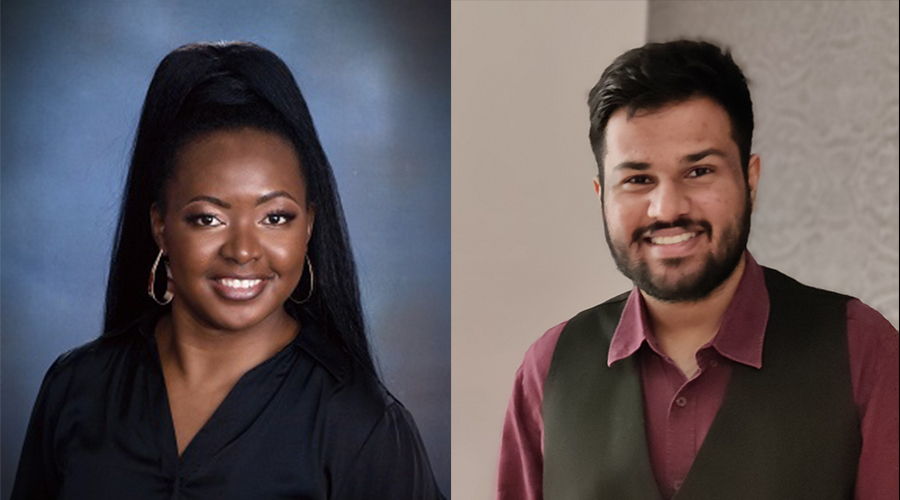 The College of Liberal and Professional Studies is pleased to congratulate Nancy Makale and Akshay Venkatesh for being named Dean's Scholars, an honor presented annually to students who exhibit exceptional academic performance and intellectual promise. 
Undergraduate programs
Nancy Makale (political science) is an immigrant from Kenya with an interest in research on advocacy support for legal immigrants in the United States as they transition into new communities. Nancy was awarded a Gelfman International Summer Fund grant, through which she led a small team on a trip to Kenya to distribute reusable sanitary pads to teenage girls. In 2021 she participated in the Penn in Washington program and interned at the US Senate, working on foreign relations in the office of Senator Bob Casey. During this internship, Nancy was involved in writing the decision memo for the BURMA Act, which Senator Casey agreed to co-sponsor. Nancy is the founder of the Dada Safarini Club, a club that strives to support and educate women in Kenya about menstrual health.
Professional master's program
Akshay Venkatesh (Master of Chemical Sciences) grew up in Chennai, India, and pursued an undergraduate degree in chemistry and mechanical engineering from Birla Institute of Technology and Science, Pilani—Goa Campus. Akshay's early industrial experience involved using data-driven analysis for brand creation in the food industry and exploring drug development at Novartis. At the University of Pennsylvania, Akshay currently works with Professor Thomas E. Mallouk on research identifying Pt-free catalysts and understanding the mass transport mechanisms in alkaline fuel cells. Akshay is passionate about clean energy. He hopes to advance the field of fuel cells with his research at Penn. Outside of research, he participates in literary competitions and enjoys the theater, reading, and football.
Read more about the 2022 School of Arts and Sciences Dean's Scholars >