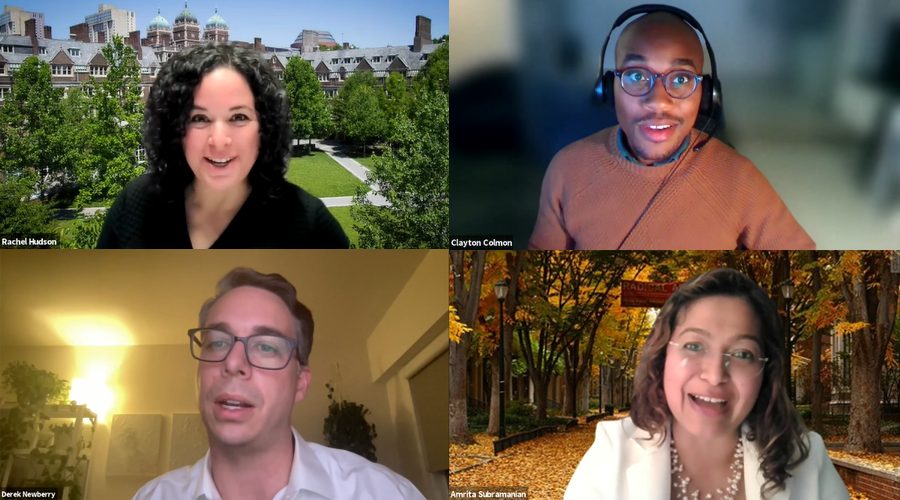 With fewer opportunities to build in-person connections and more and more interactions happening through screens, we are finding that we need new strategies to thrive as organizations, grow individually, and make sense of new contextual experiences.
College of Liberal and Professional Studies instructors and alumni recently led a panel called "Professional, Personal, Virtual: Fostering Human Connections" that explored how to create and nurture professional relationships that happen mostly—or completely—online.
The panel was moderated by Rachel Hudson, WMP '17, LPS '19, LPS '21, Senior Vice President, Pricing & Inventory, Media Operations at Cadent. Hudson, a Master of Philosophy in Organizational Dynamics student, asked pressing questions around building communication and trust, bridging the experience gap between being virtual and in-person, and how to work through tension and conflict in online spaces.
Derek Newberry, G '14, is a strategy lead at co:collective, a strategic and creative transformation partner. He is also an affiliated faculty member of the Penn LPS Online Certificate in Organizational Anthropology and teaches Introduction to Team Culture. As Newberry said, "Culture is what completes us as people and organizations," and he shared his advice on how to recognize informal cues onscreen, create explicit expectations, and how to address cultural misalignment in organizations.
Amrita Subramanian, faculty member in the Master of Science in Organizational Dynamics (MSOD) program—and an MSOD alumna herself—also teaches a course on Virtual Collaboration in the Penn LPS Online Certificate in Organizational Anthropology. Subramanian emphasized that even though the COVID-19 pandemic forced organizations to move online overnight, "this is not the end of the pattern." She stressed that leaders need to learn why their employees are leaving—and staying—and how to nourish the talent within.
Clay Colmon is the Associate Director of Instructional Design for the Arts & Sciences Online Learning team at Penn. He was a codeveloper for Penn LPS Online's Certificate in Digital Strategies and Culture and teaches a course within that program called Digital Literacy and Cultural Change. Colman noted, "The makeup of meaningful connections and environments have shifted," and that organizations need to consider and adopt contextual strategies to better connect with their workforce. Colman discussed how technologies can further human connections when leaders operate with curiosity and openness.
Watch the entire panel below.
If you're having trouble playing the video, you can watch it on Vimeo.