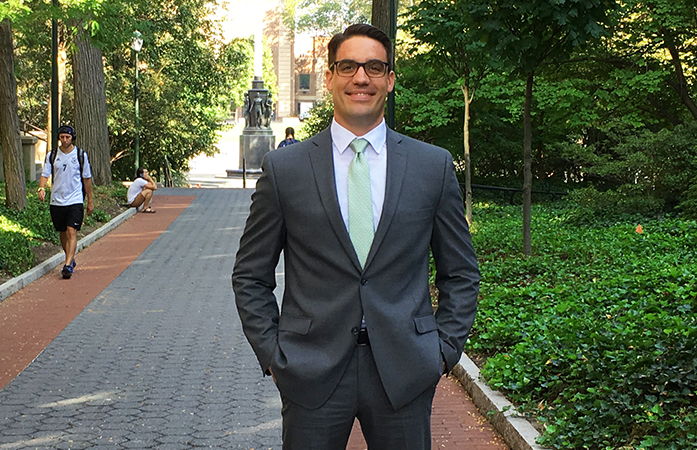 "It's a very exciting time to get involved with offshore wind power because it is a nascent industry in the US," shares Brandon Burke, a graduate research assistant at the Kleinman Center for Energy Policy and student in the Master of Environmental Studies program at the University of Pennsylvania.
Offshore wind has the potential to be a valuable renewable energy resource for the US. According to Brandon's research, more than 50 percent of the US population lived within 50 miles of coastlines as of 2016, and the 28 coastal states comprise 80 percent of the US' national electricity demand. Moreover, offshore wind is more consistent and tends to be significantly stronger, than its onshore counterpart. In fact, while onshore wind turbines typically attain capacity factors (i.e., the ratio of actual energy delivered by an energy generation asset over a given period relative to the asset's theoretical maximum energy output over that same period) around 24 percent, offshore wind turbines have achieved capacity factors approaching 42 percent.
Brandon adds, "Floating offshore wind turbines, which are anchored to the seafloor by mooring lines, are cutting-edge technology. Unlike fixed-bottom structures, which are limited to water depths of about 50 meters, floating turbines can harness wind energy in deeper water, like that found off the West Coast."
Through his research, Brandon found that similar to other renewables, energy storage is another challenge to expanding offshore wind development in the US. He explains, "For better or worse, fossil fuels are an excellent way to store energy. The output of a dispatchable asset, like a natural gas power plant, can be ramped up and down as needed. With renewables, the wind might stop blowing, or clouds may obscure the sun, but customers will still expect uninterrupted power. Figuring out how to incentivize storage in contemporary electricity markets, which remain geared towards fossil fuels, is where careful policy design is essential."
Brandon joined the Kleinman Center for Energy Policy as a graduate research assistant during his third semester as a Penn student. His recently published policy digest, Tilting at Windmills: The Emerging US Offshore Wind Energy Industry, is the first in a series of three research papers about offshore wind. These digests examine, among other things, the underpinnings of the marked differences between the European and US offshore wind industries. Brandon also recently presented his findings on the offshore wind industry at the Kleinman Center for Energy Policy's Carnot Prize ceremony, which honored former EPA Administrator Gina McCarthy.
Reflecting on his research, Brandon notes, "By analyzing and leveraging the most robust presently available information, effective policies can be implemented which will best position us for a wide range of future scenarios."