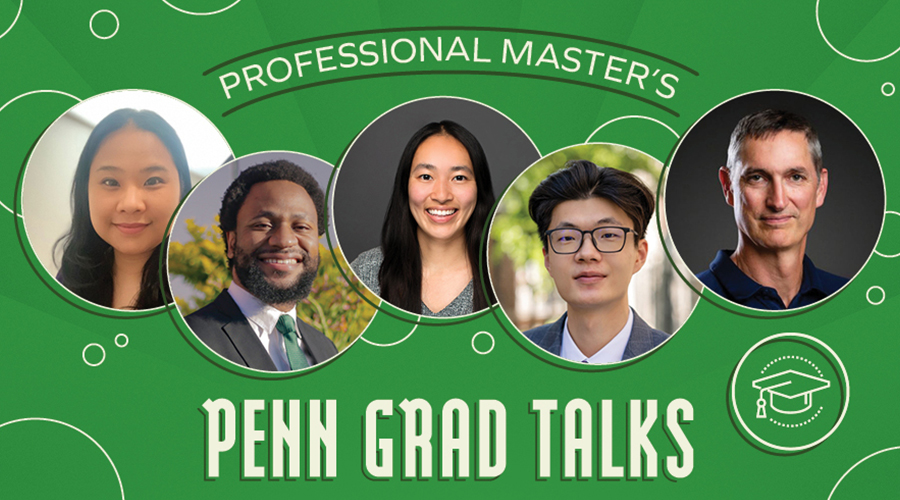 The College of Liberal and Professional Studies is pleased to recognize the LPS students selected to participate in the Professional Master's program category of this year's Penn Grad Talks. The competition, which took place at the Penn Museum on February 24, features TED Talk-style presentations by Penn Arts and Sciences graduate students from the humanities, social sciences, natural sciences, and professional master's programs. Winners from each program category plus an overall audience choice awardee were announced on social media.
This year's audience choice winner was Valerie Averia (Master of Applied Positive Psychology '23—expected), who discussed strengthening marriages through collaborative legacy writing.
The 2023 LPS student presentations:
Savoring the Shared Life: Strengthening Marriages Through Collaborative Legacy Writing—Overall audience choice winner

Valerie Averia, a Master of Applied Positive Psychology student, shares how the most basic of our social institutions, marriage, is a healthy pathway to better personal well-being and improved function in various domains of life. Positive interventions, she found, can help maintain and strengthen marriage and optimize its benefits. One intervention she recommends is legacy writing—writing to preserve life experiences. As a collective activity with one's partner, she argues, legacy writing is a simple and effective positive intervention practice.

From Bottled Water to Filtered Water: Save Money and Save the Earth

Zhao Liu, a Master of Environmental Studies and Master of Law student, highlights the high cost of drinking bottled water—both financial and environmental—reminding us that many public water systems already provide safe drinking water. Beverage companies, he argues, manufactured demand for bottled water through marketing, selling plastic bottles often filled with the same tap water that is available to us from our own sinks at a fraction of the price. His lifecycle analysis of plastic bottles indicates that the carbon footprint of one bottle is comparable to filling each bottle one-quarter with oil. By drinking tap water or filtered tap water instead of buying bottled water, we can each reduce our carbon footprint and save money.

Striving Together: Competition Redefined

Kerry O'Neill, a Master of Applied Positive Psychology student, explores the unhealthy side of competition. Referencing his own experience as a college basketball player, Kerry discusses how the culture of sports often becomes one of comparison—even with our own teammates—when we focus on becoming "the best" rather than our best. Employing positive psychology concepts can help us pivot from conflict to unity in sports and help us lead more joyful lives.
Congratulations to Valerie and to all of the LPS students who participated in this year's Penn Grad Talks!
Watch all of the 2023 Penn Grad Talks on YouTube >