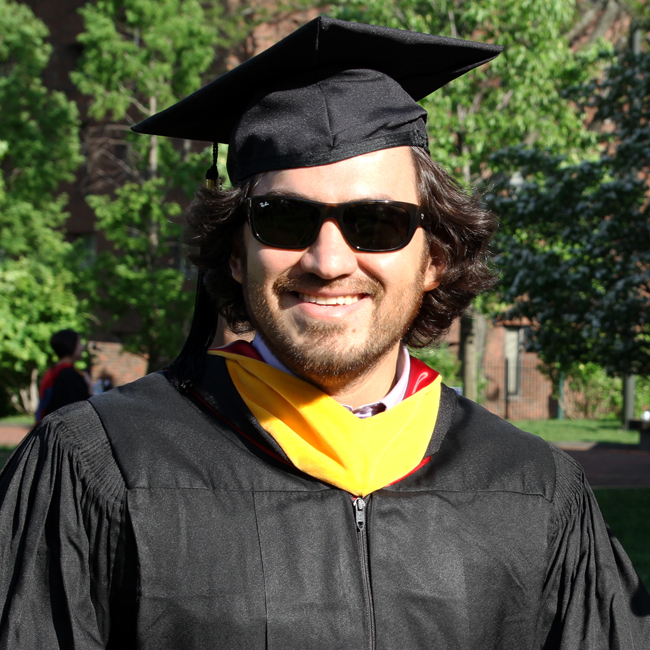 Education:
The University of Pennsylvania, Master of Science in Applied Geosciences '13
Milwaukee School of Engineering, Master of Science in Environmental Engineering '11
Universidad Iberoamericana, Bachelor of Science in Industrial Engineering '07
"I needed to follow my passion, and Penn opened those doors," shares Pau Garza (Master of Science in Applied Geosciences '13). Pau is a native of Mexico and Wisconsin with a resume that spans the globe. Joining Penn is what Pau calls in his words, "destiny." While visiting Philadelphia to look for graduate programs in the environmental field, he found the Master of Science in Applied Geosciences (MSAG) and never looked back.
"I had a Bachelor of Science in Environmental Engineering and I wanted to know more about water and soil. I also needed a program where I could be involved in research, and Penn had everything I was looking for. The graduate population at Penn is huge, and that was a big component of my decision," he recalls.
While completing his degree, Pau took advantage of the many resources and opportunities within the MSAG program. He was involved in stormwater monitoring at Shoemaker Green; conducted research abroad in Puerto Rico; and he was a Teaching Assistant for a Geology 100 course.
"I was a full-time student, and I was there for the full experience," he continues, "Many of my peers were working in the field and it elevated the classroom experience. You get into the nitty-gritty of the industry in the MSAG program. You're always in the know, and you can't put a price on that."
After completing his degree, Pau went on to become a Research Assistant at Villanova University in stormwater management and his work was presented last summer at the GeoChicago 2016 Conference (American Society of Civil Engineers). Pau will also soon be sharing his research at the Geotechnical Frontiers 2017 conference in Orlando focusing on hydraulic conductivity.
With a focus on soil, Pau's goal in his work is to "educate other engineers that soil is not a uniform material. We worry about water and our ecosystems, but the soil is the base. If that's not healthy, nothing else flourishes."
As it turns out Pau has always had this passion for the field, "Growing up, I loved paleontology because I loved dinosaurs. I was one of those kids playing in the mud." And when reflecting on his experiences at Penn, he smiles, "I made lifelong friends from Trinidad and Tobago, China and India. You don't get that at any school. Penn is a very inclusive and progressive place. Everyone, professors, advisors, your peers, everyone wants you to do your best."