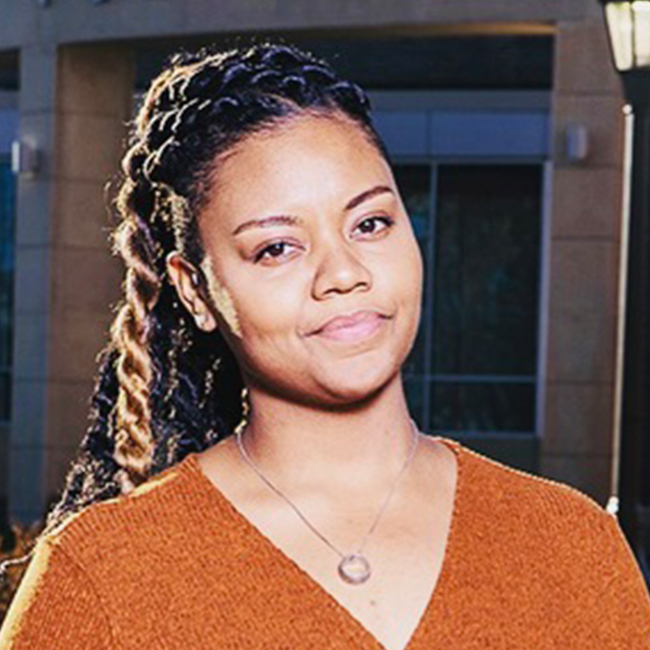 Retention and Mentoring Program Coordinator, UNI Department of Diversity, Inclusion & Social Justice, University of Northern Iowa
Education:
Master of Applied Positive Psychology, University of Pennsylvania '22
Bachelor of Arts, University of Northern Iowa '16
Associate of Arts, Hawkeye Community College '14
Long before discovering the Master of Applied Positive Psychology (MAPP) at Penn, Dacia Carter had committed herself to community service in and around Waterloo, Iowa. She worked in the juvenile court services, with school districts, and with family and community programs. Along the way, Dacia learned how to help youth and adults build resilience skills and cultivate their best lives. Those experiences prepared her for her current role as retention and mentoring program coordinator at the University of Northern Iowa (UNI), her alma mater. "I never thought I'd end up working here," she shares. She had been recruited a few times to work in higher education, but the positions never felt right. "I said, I'm not following through on a lead until I feel like it is in alignment with who I am and what I am about," she adds, and the newly-created role with the Department of Diversity, Inclusion & Social Justice felt right.
Dacia serves a spectrum of multicultural and underserved students through retention efforts, mentoring, and helping students navigate the college experience. (You can listen to Dacia talk about the programming in a UNI Facebook video.) With so many responsibilities and areas to develop, Dacia set to work early in her tenure to learn more about student retention specific to the underrepresented and underserved students she was targeting. It was during her weeks of internet research that she came across the MAPP program. "I like to say MAPP found me," she jokes.
"Within my informal research, I came across this concept of thriving. That word just drew me in. And flourishing­­—what does that mean? What does that look like? Within the research, I realized many of the things that were part of MAPP were part of something I truly believed in, like the concept of mattering, the concept of cultivating and strengthening our relationships. I couldn't have found a better program because it seemed like MAPP was all that and above."
Dacia was convinced she wanted to be a part of MAPP. "The program was such a great fit, that I didn't even consider the financial obligation when I applied. I was walking by faith, not by sight," she says. After finishing the program application, Dacia looked for financial support opportunities. She applied for and was awarded the Christopher Peterson Memorial Fellowship. "It didn't hit me that the fellowship would make such an impact on my decision," she remembers. "When I got that call, I was in the Mall of America jumping up and down and crying. It really is a blessing."
Like many in her cohort, Dacia has continued to work full time while completing the MAPP program, which was fully online for the 2021-22 academic year, due to the pandemic. "I think the beautiful thing about MAPP being 100 percent online is that everyone—the professors and administrators, even the students—really contributes to that community. They set the tone by saying, 'you belong here, you matter,'" she reflects. "MAPP brings the classroom to a virtual space in a way that I don't think any other program could have done," she says. Regarding some of the social elements, Dacia notes, "I didn't know there was such a thing as virtual museums. We have dance parties in class and we're really dancing, too! It just builds a sense of community and camaraderie between all of us at such a distance."
And that comfort level pays off. "We share a lot of personal and touching stories. Being so transparent and so authentic—it's amazing how all of that can be incorporated within a remote program," she says. The diversity of culture and experience among her fellow students is important to the curriculum, too. "People are all over the world. Students come from every sector. Everyone has valuable perspectives that they bring," she adds.
Her positive experience in the MAPP classroom—that sense of belonging, value, and comfort in being your authentic self—blends with the mission of her role at UNI. For her MAPP capstone this spring, she plans to look at positive psychology as an extension of student support services and incorporate as much of her current work experience as she can. "Positive psychology is the missing piece of the puzzle in my story in terms of higher education and marginalized communities," she says. "A lot of the things that we talked about within positive psychology are exactly what we need. I think it could be really beneficial in terms of retention and recruitment and getting students to want to seek out higher education as the next step for them," she says.
Dacia will continue to bring lessons from MAPP back to her students at UNI. "I heard a long time ago that higher education and the heart don't mix, but I recognized early on that that is exactly what is needed. I think if we lead with matters of the heart, those numbers in terms of equitable outcomes—we'll see a difference, we'll see improvement. And I'm going to test the waters where I am right now because I love these students," she concludes with a smile.