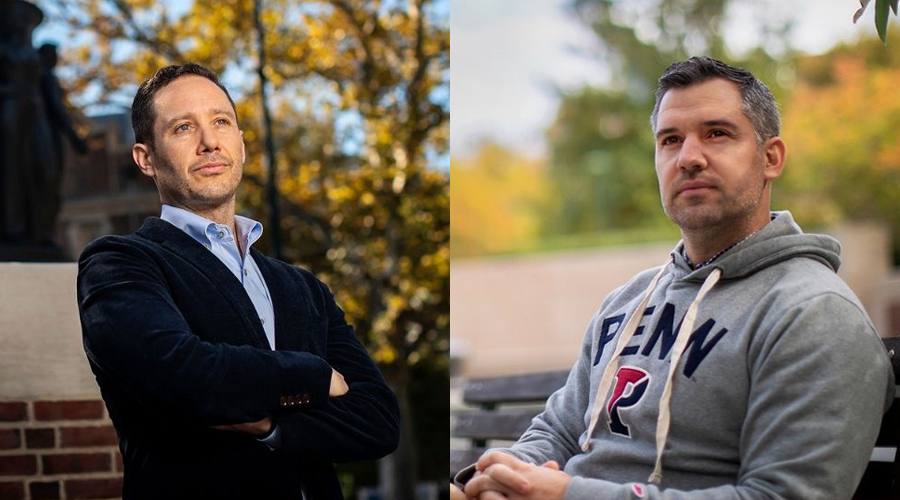 This Veteran's Day, Penn is offering the community ways to thank veterans and honor them for their service with two events on campus and an article in Penn Today that highlights three students veterans. The College of Liberal and Professional Studies is proud to call two of those students, Jesse Hamilton and Greg Luttman, their own.
Jesse Hamilton has a family military history that started with his fourth great grandfather, an officer who wintered with George Washington at Valley Forge during the American Revolution. "Members of my family have served in the US Army during almost every major war—the American Revolution, the War of 1812, the Civil War, World War I, and the Korean War," said Hamilton.
At eighteen, Hamilton enlisted in the US Army and completed nine years of service. His time in Iraq dramatically changed his perspective on the war and he felt had had to "had to re-orient my moral compass."
Peter Singer's book "Practical Ethics" sparked a passion for philosophy in Hamilton, and after completing his business degree at La Salle University and earning a Master of Liberal Arts at Penn, he is now a PhD student in the philosophy department. Hamilton finds that his military experience plays a significant role in his studies. "Service members work alongside fellow Americans from different economic classes and different geographic regions. We regularly interact with people with different belief systems and often learn why they believe what they do," he said.
He encourages civilians to take an active role in connecting with veterans and said, "The best way to learn about military service is to talk to a veteran."
Greg Luttman also comes from a family of veterans who served in World War I, World War II, and in Vietnam. Luttman, a freshman at Saint Peters University at the time, saw the 9/11 attacks as his calling to serve his country.
After eight years, he began to consider how his military experience would transition to civilian life. Luttman expected that with his background and leadership experience he'd have high-level roles offered to him, but that wasn't the case, and stepping down into a civilian role was hard for him.
Luttman worked in general retail management and considered an MBA. But then the pandemic hit and "organizational dynamics found me…What I realized was that the infantry officer that I had been for eight years was really just the general manager of the battlefield," he said. "I utilize lessons about leadership, conflict management, and the importance of effective communication I've learned in the military every single day."
Now a graduate student in Penn's Master of Science in Organizational Dynamics, Luttman says the program is allowing him to consider his military and leadership experiences in different ways—and is helping him achieve an unexpected mental health benefit. He said, "My journey through this program has helped me reach a level of post-traumatic growth that I didn't think was possible. Through deep self-inquiry, course work, coaching, and interactive dialogue with faculty and fellow students, I was able to gain a new perspective about who I am and my potential."
Read more about Penn's veterans at Penn Today >
Watch Jesse Hamilton talk about his time in the Master of Liberal Arts program on You Tube >